Natsukashii
Posted on 2006/02/20 01:20:10 (February 2006).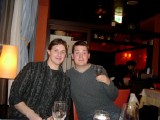 [Sunday 19th February]
Natsukashii is the Japanese word for nostalgic, which describes today pretty well. Chie's friend Kanako came over for a bit in the afternoon to get some help on her website. It just so happened that Dale was also working in Tokyo, we had arranged to go for a drink, and the girls decided to come along too. We went to a sort of Spanish (ish) restaurant in Shinjuku station.

The four of us (me, Dale, Kanako and Chie) quite possibly hadn't sat in a room together for four years. It is odd that some people really just don't seem to change - or maybe I am just too ignorant to notice any differences!



Comment 1
Nostalgia. Yep! You know what's my problem? I'm nostalgic of a period I haven't lived in and which is most probably no better than mine. A period when television didn't exist. The point is that I tend to consider only the bright sight of it...

Posted by Sheri at 2006/02/21 23:42:22.
Comment 2
Where (and to what period) do I belong?

Posted by Sheri at 2006/02/21 23:43:39.
Comment 3
1940s...?

Posted by John at 2006/02/22 05:13:35.
Comment 4
No way...! Gotta be insane to wish that!

Posted by Sheri at 2006/02/23 06:34:32.
Comment 5
OK 1930s then?

Posted by John at 2006/02/23 07:33:00.
Comment 6
Noooooooooo!!! You forget the stock market crash of 29! Too unstable!

Posted by Sheri at 2006/02/23 09:58:46.
Comment 7
OK - for I wild guess, my own personal favourite - 1880s/1890s?

Posted by John at 2006/02/24 02:55:46.
Comment 8
Are you kidding me? Surgeons were butchers in those days!

Posted by Sheri at 2006/02/24 07:43:16.
Comment 9
No, I tell you, I'm a permanent misfit! In time and place!

Posted by Sheri at 2006/02/24 07:44:15.
Comment 10
Hmmm - well you're going to struggle to find an era with decent standards of health care and no television! These requirements pull in opposite directions!

How about the 1950s as a compromise? Still a lot of people didn't have a TV during this decade, and health care was, well, better than 50 years previous (but also still a long way short of today's standards).

I rather like this era, as this was when my grandparents had a car (possibly for the first time). They used to go for little runs out in the country, to nice little pubs in unspoilt villages in the heart of England... Then sometimes they would motor further afield as well.

The most important inheritance I got from my grandfather is a love of some of the more magical places in Britain - Cornwall, Devon and Wales. These have been passed to me through my father. I suppose during the 50s my grandparents were further exploring these places, aided by having a car, whilst also introducing them to my Dad as a boy.

There is a lovely picture of my grandfather, my Dad and my uncle out walking on a hillside. It looks so much like when me, my Dad and my brother would go for long walks in the country when I was younger.

My brother now has two sons, and although he is not currently that interested in the great outdoors, I am hoping he will mellow as he grows older, and they can then follow on this great Hawkins tradition.

Getting a bit teary here...!

Posted by John at 2006/02/24 17:14:39.
Comment 11
No doubt you're an interesting chap, Mr. Hawkins. Very receptive to the singular beauty of traditional British landscapes. I bet you must love Ivory's films (Howard's End, A Room with a View, The Remains of the Day).
As for the fifties, I don't know. Perhaps. Mass tourism was not yet spoiling every picturesque sites of the planet.

Posted by Sheri at 2006/02/25 14:33:47.