Table
Posted on 2006/01/29 09:24:51 (January 2006).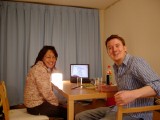 [Saturday 28th January]
I got back spectacularly late the previous night (in fact to call it night is really not doing it justice), and so for what remained of Saturday morning I was somewhat dead to the world. When I finally awoke, I looked through the sliding doors to the living/dining room, to see there was a table and chairs in there. Marvellous. We had ordered them the week before, and they had arrived whilst I was asleep. Chie was forced to admit it was actually of benefit that I did not get up to greet the delivery men - the furniture was supposed to be self-assembly, but the delivery men clearly took pity on Chie having to do this all by herself, so went somewhat beyond the call of duty and assembled it all for her. Marvellous.

No particular hangover to speak of (note to Mum - didn't actually drink that much, and Chie was also out until late, so no nagging email this time please!). We headed out for a late lunch at some place near Shibuya, that we had walked past a while back, and had stood out as the menu included vegetarian burgers. It was a smashing burger, and really set me up for the day. Chie dragged me round a few shops for the remainder of the afternoon, although I was in something of a daze, having not had a great deal of sleep.

For dinner we made sushi back at home - of the lazier temaki variety (just assmeble it yourself as you eat it). It was great to eat dinner at a proper table for the first time. All we're missing now is a sofa really, and we have a pretty much completely furnished apartment. Marvellous.



Comment 1
I thought that in England if a kid gets drunk mums give them presents and treats, not nagging emails! :)

Posted by Lox at 2006/01/29 24:18:24.
Comment 2
Moi, nag? Too busy shovelling the 15 inches of snow we have had, my son.

Posted by Mum at 2006/01/29 14:54:01.
Comment 3
It's amazing isn't it...?? Tables I mean. Chairs too. Ever read Robinson Crusoe? Making a chair? We take it so much for granted - pop in a shop, pick up a chair or two... Sorry... it's been one of those days... :)

Posted by Nigel at 2006/01/29 20:54:27.
Comment 4
Ah! As I pass by again... I see the photos now - nice dining set!! Just my taste - simple but sophisticated.

I have to ask what the glowy-thing is next to Chie? I guess it's some form of lighting, but it has that enigmatic, otherworldliness about it that defies a quick recognition..

Posted by Nigel at 2006/02/04 10:46:13.