Geoff the Snowman
Posted on 2006/01/22 13:59:46 (January 2006).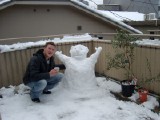 [Sunday 22nd January]
The flurry of snow seems to have just been a one day thing - by this morning it had stopped falling, but there was still a decent covering of it on the rooftops of the buildings we could see from the windows of our apartment. More importantly, there was also still a decent covering on our balcony. After lunch, Chie made a passing comment that there was enough snow there to make a snowman.

Approximately eight seconds later I was out on the balcony, busily undertaking this task. I wondered why it hadn't occurred to me sooner. Our balcony is pretty large by Japanese standards, and as the snow was quite deep there was ample building materials to make a really good go of it. This was tremendous fun, really one of the highlights of this year so far. The snow was perfectly suited to this kind of construction work, allowing me to get a bit "artistic" and sculpt a nose, some misshapen ears, eyes and even arms. Oh, and I decided to name him Geoff.

The rest of the day was pleasant enough, but not really up to the same proportions of fun as I'd had with Geoff. We went over to Shinjuku to do some shopping, and finally got round to ordering a dining table. We also finally ordered a faster internet connection and a phone line (just using a weird sort of mobile thing at the moment), but apparently it will be quite a while before this can be installed. Made a baked gnocchi dish for dinner, which was jolly nice.



Comment 1
living up to my nickname "worst case scenario kev" my immediate thought was - theres no way that balcony has been designed to carry all that weight especially snow, snowmen, plants an 2 people- if it snows again theres gonna be trouble. Also john, what's japanese for snowman?

Posted by kev at 2006/01/22 17:00:52.
Comment 2
Tu es un artiste-né !

Posted by Sheri at 2006/01/22 18:39:41.
Comment 3
on a more positive note, I like the way the snowman is clearly shouting "Hurrah!"

Posted by Kev at 2006/01/22 18:55:52.
Comment 4
I think you could justify buying a large fridge, a glass cabinet style one that you might find in a shop storing cool drinks, that way geoff can live on in your lounge. Now that would be cool, a snowman all year round! - however I couldn't help myself and just thought of there being a power cut and Geoff going to meet the neighbours through the ceiling!

Posted by Kev at 2006/01/22 18:59:19.
Comment 5
Top-notch snowman there, John!! Excellent! If you'd seen the dismal effort I made during the snow we had a while back - and in the land of cold, wet and snow and northern winds - you'd realise what a stunner yours is/was :))

Posted by Nigel at 2006/01/22 21:05:21.
Comment 6
John be careful to read the tenant contract, it might happen that a GAIJIN SNOWMAN counts as an extra resident, menaing that you'll be kicked out of Japan in 5 hours! :P

Posted by Lox at 2006/01/22 22:57:55.
Comment 7
Thanks for the advice WCS Kev! Fortunately it is still literally freezing outside, and Geoff was still looking ok on my way out to work this morning.

Posted by John at 2006/01/22 23:30:19.
Comment 8
Kev: Apparently they say "yuki daruma", although probably nowadays the use snowman as well. Yuki means snow, and Daruma is a kind of little statue thing (a subject on which Lox is a somewhat reluctant expert if I recall correctly) which is normally used as a sort of good luck charm.

Sheri: Merci beaucoup, mais c'est pas un Monet!

Nigel: It is great to hear I am not the only "grown up" round here indulging in these sorts of activities! Although you of course have the excellent excuse of having kids of your own! Incidentally, I wonder if you are also very "proactive" when on bucket and spade holidays - i.e. do you continue tirelessly to build elaborate sand castles long after the kids have lost interest and wandered off to play in the sea?

Lox: Actually Chie did mention Geoff's facial features looked very gaijiny - I think it is the nose particularly.

Posted by John at 2006/01/23 12:04:55.
Comment 9
Oh, and I woke up this morning with a song in my head:

(to the tune of Puff the Magic Dragon)

Geoff the magic Snowman,
lived by a tree,
and was constructed from frozen precipitation,
on a Tokyo balcony.

Posted by John at 2006/01/23 12:07:06.
Comment 10
Oh yes, of course!! And I also use the phrase -"I only do it for the children..." !!! It only becomes worrying when Joc says things like - "Yes, he's in touch with his inner self..." !!! If I were to offer any advice for coping with a far-off land, I'd say - Keep building snowmen, John!! :))

Posted by Nigel at 2006/01/23 07:32:19.
Comment 11
Keep building snowmen - thanks Nigel I love it!
I think I have a new motto!

Posted by John at 2006/01/23 11:43:46.
Comment 12
Any chance of you actually recording an mp3 with that song John?

Posted by Lox at 2006/01/23 20:37:13.
Comment 13
Lox, I will add that to my to do list!

Posted by John at 2006/01/23 23:49:45.
Comment 14
So much thought provoking conversation from the construction of a snowman. I'm impressed. Can't wait for your next project!

Posted by Michelle at 2006/01/26 09:14:30.