An Evening with Holmes and Watson
Posted on 2006/01/14 09:12:20 (January 2006).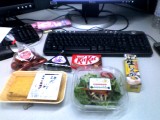 [Wednesday 11th January]
I left work on time so I could be back home to wait for the delivery man. He actually arrived a little before the allocated slot, but I'll forgive him that, as he brought with him a little bundle of joy (no, not a baby). I had ordered The Complete Sherlock Holmes from Amazon - every single epsiode of the excellent Jeremy Brett Sherlock Holmes series. Naturally I then spent the rest of the evening watching several episodes back to back. The acting is a little hammy in places, but I was happy to overlook this as the atmosphere was somehow spellbinding. Marvellous.



Comment 1
Did you order through the UK or American Amazon? Was thre a surcharge for the Japanese delivery?

Posted by Lox at 2006/01/14 09:57:23.
Comment 2
Amazon UK - and the delivery was pretty cheap, only about 3 pounds. Not bad considering the full box set runs to something like 16 DVDs so must have weighed a fair bit!

Posted by John at 2006/01/15 03:53:05.
Comment 3
Oh and I had a look on the Japanese Amazon site, and they had a slightly different version of the same box set, for about three times the price!

Posted by John at 2006/01/15 03:54:07.
Comment 4
Ah, Brett was the best Holmes ever. He had that certain "mad" quality the part so needed. You believed he was taking drugs, on the verge of a breakdown... The atmosphere of the series was perfect - especially the longer episodes when you got more of a feel for the times. There's a particular Christamassy story, with the first Watson, I particularly liked... :))

Posted by Nigel at 2006/01/18 09:50:08.