The World's Fastest Olive Tree
Posted on 2006/01/13 09:47:39 (January 2006).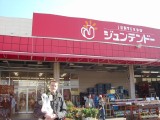 [Monday 9th January]
Spent the daytime in Hiroshima, and headed back to Tokyo around 5ish. There's a pretty good Juntendo near Chie's parents house (a sort of home and garden centre, like Homebase or B&Q). We went there in the afternoon before getting the train to Tokyo, Chie bought some plastic boxes and I was rather pleased to find a small olive tree.

I got some funny looks carrying it back on the train, as you might imagine. I couldn't help but wonder how many olive trees have been transported by Shinkansen, travelling up to 300 km/h.



Comment 1
Maybe you should wonder how many olive trees have been transported by plane at 1000km per hour... I don't think that they had olive trees in Japan, though I might be mistaken. Of course everyone knows that olive trees are original from Italy and that we export the vast majority of their foreign counterparts. AH!

Posted by Lox at 2006/01/13 11:06:47.
Comment 2
Are you going to bonsai it? Round the Mediterranean they like to put down long roots, but I suppose on a third floor balcony it might annoy the neighbours.

Posted by Mum at 2006/01/13 15:41:47.