Out with the Moriwakis
Posted on 2006/01/08 03:54:59 (January 2006).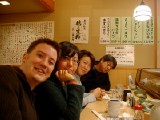 [Saturday 7th January]
Spent the day out and about in Hiroshima with Chie's family. Visited some Japanese gardens, had afternoon tea, went for a beer or two with Chie's Dad whilst the girls went shopping, went to our favourite sushi restaurant, and then (of course) rounded off with karaoke!



Comment 1
"Out with the Moriwakis" could read:

"Out with the Moriwakis, in with the Tree-Chewing-Psycho-Luna-Monkeys!" in some sort of a trans-orbit girlfriend-family swap.

It's a good job we know what you mean or there might have been some sort of trans-orbit breakdown.

Posted by Rob Lang at 2006/01/08 15:12:08.
Comment 2
Thanks as usual for the lively and fascinating photos of Japanese family life ....
Chie's Dad seemed to particularly appreciate your karaoke .... or was he just pretending to be inspecting the inside of his eye-lids !
Like the cardigan John ... I am really in to cardigans now .... it's my age you know ... and I have several just like that ... oops sorry .. you will probably never wear it again ... and then the Royal Doulton tea rooms ..amazing .... do you think there might be a market importing antique Royal Doulton tea services for resale in Japan ??

LOL

Cardie-man

Posted by Dad at 2006/01/08 15:53:13.
Comment 3
Please send my best wishes to the Moriwakis. The sushi restaurant was great next time we gotta go again! :)

Posted by Lox at 2006/01/08 22:49:49.