Failed Gardening Attempt
Posted on 2006/01/08 03:32:20 (January 2006).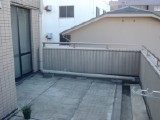 [Tuesday 3rd January]
Headed out in the afternoon to try and find a garden centre. Chie had found the address of one on the web, but either I got completely lost or it didn't exist any more. Either way I couldn't find it, and as a result our balcony is still looking rather bare.

Met up with Chie after she finished work and went for dinner at an Italian place somewhere around Shinjuku.



Comment 1
January not the best time for looking for plants! Also consider some Versaille type planters (ie square boxes) and trellis with which to frame the view and, strangely, hide it. Those buildings will look so much better if only glimpsed.

Posted by Mum at 2006/01/09 16:24:57.