Kamakura
Posted on 2006/01/02 10:10:39 (January 2006).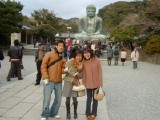 [Sunday 1st January]
Went for a day out to visit Kamakura with Chie's friend Maiko and her boyfriend Koji. Kamakura is a town near Tokyo, famous for its shrines and temples, and as such attracts a lot of people around New Year, when Japanese people typically pay visits to these sorts of places. Probably the pictures describe the days' outing best...

We got back home pretty late - after midnight I think. It then occurred to us that we hadn't yet watched one of the DVDs we'd rented the other day - Miyzaki's newest film Howl's Moving Castle. Given that we had to return it by 10AM the next morning, I decided to stay up late to watch it (Chie on the other hand fell asleep part way through, exactly as she predicted beforehand). I have to say I was a little disappointed really. Maybe I didn't do it justice given that I was pretty tired when I watched it, but still... The story was just such a mess - perhaps this is my failing for not understanding this kind of Japanese narrative properly, I don't know. It seemed such a waste to me to have a film which looked so fantastic visually - I particularly liked the pseudo European Victorian era backdrop - but have such a random and unabsorbing story. I think Spirited Away remains my firm favourite as far as Miyazaki films go.



Comment 1
I haven't seen Howl's Castle but his movies are all rather "strange". I like his work Spirited Away was a great movie.
As for Kamakura is one of my favourite places in Tokyo! :)

Posted by Lox at 2006/01/03 10:22:16.
Comment 2
HAVE YOU SEEN ANY OF KUROSAWA AND MIFUNE FILMS?

Posted by PAUL at 2006/01/07 14:08:20.