Let's try to be positive
Posted on 2005/11/28 24:09:01 (November 2005).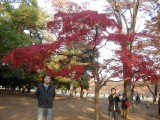 [Sunday 27th November]
Following one of the whingiest posts in my blogs' history, I have determined today to report nothing but the positive aspects of what has happened. So, here we go, I shall list things that were good about today, and totally ignore the fact that I spent all the intervals feeling sorry for myself as the poor underprivileged gaijin.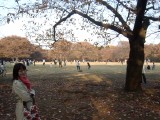 We went to a park in the early afternoon - the bit around Meiji Jingu Shrine. Lorenzo has often talked about it, but neither Chie nor I have ever been there. Actually we didn't see anything of the shrine itself, just took a walk through the park, but still, it was nice to see some greenery, albeit very overcrowded and slightly grubby greenery!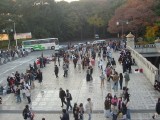 I took a couple of pictures from the same vantage point Lorenzo also uses to view the "fruits" of Harajuku. Blimey they're an odd lot, but god bless them for having the guts to be individuals. Weirdos of Harajuku, I salute you!



We walked from there to the Pizza Express in Harajuku, this felt very good when I realised we had walked all the way from our appartment. Like most major cities it is easy to get into the habit of getting trains everywhere, but sometimes it is really nice just to go on foot. It was also great to be in Pizza Express - like a little corner of England. Lovely.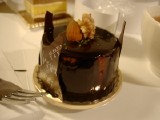 We went indirectly back home from there by way of Shibuya. We bought cakes on the way, and ate them when we got back home. Chie's cake wasn't so nice, so we won't talk about that. The cake I chose, however, was really very nice. That's good!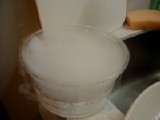 Better still, they gave us a block of dry ice to keep our cakes cool. You can imagine the fun we had with that! It's not dissimilar to small children who have more fun playing with a cardboard box than they toy that was in it.

We're rich now. Well, comparatively. At least, I have been paid, so have some money in the bank, rather than no money. As a result, the feeling of guilt when eating out has been drastically reduced, to the point that we ate out twice today - the late lunch at Pizza Express, as already mentioned, then a late dinner at a nearby Indian restaurant. It had a charminglly grotty feeling to it that reminded me of Indian restaurants back home. We enjoyed a very nice sag aloo type dish, and also an aubergine curry. There were plenty of Indian customers in the place, which gave me that standard feeling of reassurance that it was probably of a pretty good standard.

So there you have it. When I edit out all the time spent feeling pissed off about out accomodation situation, it actually was a very nice day!

Post a comment