Saturday
Posted on 2005/11/13 05:20:50 (November 2005).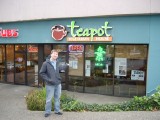 [Saturday 12th November]
It was quite a varied day. One of my colleagues (in fact the only one left behind from the Japanese office, the rest all went back today) had offered to give me driving lessons. It's been a year since I passed my test, but having spent the last six months or so travelling around, I haven't driven for quite some time. Plus I have never driven abroad, never driven on the right, and never driven an automatic. So I wasn't that confident at the prospect of taking a car out for a spin! Actually it turned out to be easier than I thought, although it was very reassuring to have someone to say "Right!" at regular intervals.

We incorporates lunch and a spot of shopping into the driving practice. First we went to a mall somewhere in the Seattle area (possible Bellevue?), where I bought a couple of CDs. After that we went to a Vegetarian Chinese restaurant I had read about on the web for a spot of lunch. Very nice too. We also fit in a visit to Fry's - the big electrical store, and a supermarket to buy food for the weekend.

Spent the early part of the evening benefitting from the wonders of digital technology and the internet in order to spend some "quality time" with Chie, albeit remotely. Not only could we see and talk to each other via webcams/microphones etc, but we could also listen to the same music, and I was able to show her pictures of what I had done the last couple of days. I think we both find it particularly miserable eating by ourselves, but thanks to webcams we were able to "sync up" for our respective lunch and dinner. This would probably look very strange from a third party point of view! Obviously this is at best a poor substitute for the real thing, and I am still somewhat annoyed at having to spend so long away on business like this, but still, I guess it is better than nothing.



Comment 1
It's nice the fact that you couls "eat together", I find it sweet!
Think that 10 years ago it would have been unthinkable... Well only 1 week to go anyways!

Posted by Lox at 2005/11/13 07:52:49.
Post a comment