Monday in America
Posted on 2005/11/03 07:40:46 (November 2005).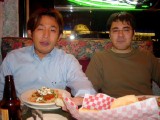 [Monday 31st October]
Spent the daytime "in the office", here in thr States. It is hard to describe exactly what it is we're doing here, but I guess you could broadly describe it as training. Me and my fellow colleagues from Japan have our own room, and even our own PCs to use while we're here. Whilst the provision of equipment is wonderful and the provision of space is, well, passable; the provision of information has thus far been a little lacking and I am not totally sure what I am supposed to be doing longer term, or even what the exact purpose of this trip is in the shorter term. Hopefully one or both of these will become clear in the next few days though.

Went out for dinner in the evening with a couple of my Japanese colleagues, ate at a sort of American style pasta place called something like Frankie's. It wasn't bad I suppose. As we had to wait a bit for one of our colleagues I'd managed to knock a few beers back in the intervening time, and have a vague suspicion I probably embarassed myself somewhat. Oh well, if you force people to give up their free time like this, then what do you expect? I am generally pretty respectable during office hours, but outside of that I am not going to make anyone any promises. I am still thinking I ought to get time off in lieu, not just for the two or three weekends I'll be displaced for, but also for all these evenings. As nice as my colleagues are, this is my free time, which I ought to be able to spend how I want. I am being paid for 9-5:30, 5 days a week, not for 24-7.



Comment 1
Damn right you are !

Posted by Sheri at 2005/11/03 11:22:32.
Comment 2
Errr John.... I am afraid that in Japan you will be paid for 0-24 pretty much every day of the week... :)

Posted by Lox at 2005/11/05 06:27:33.
Post a comment