The Day That Wouldn't End
Posted on 2005/10/31 14:48:01 (October 2005).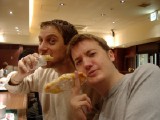 [Sunday 30th October]
I somewhat incorrectly thought once I started my new job I would have a chance to start getting settled a bit, after a long summer of constantly moving about. However after just one week in the job I was being sent off to America for three weeks, so yet more travel and disruption lay before me.

Today was the day I flew. Given that Japan is GMT +9, and the West coast of America is -8, that makes for a rather crazy time diference between the two of -16 hours. This is somewhat confused by the fact that Japan doesn't adjust for DST. So actually Japan had been 8 hours ahead of the UK while DST was in effect, until today, when it reverted to being 9 hours ahead. In fact to make matters more perplexing the change from DST back to "normal" time occurred while I was on the plane. As it is a journey I haven't made before (I've been to Seattle before, but not starting from Japan) I ended up terribly, terribly confused about what time it was, especially as it seems our American cousins are not all that efficient at setting clocks back - so some clocks were telling me it was one time, some another.

Anywho, to wind back a little, I had woken up in our temporary flat in Tokyo around 8ish, and as it turned out Lorenzo had arrived in Tokyo the previous day. It was a slightly cruel twist of fate that our schedules would only intersect for so brief a period, especially as Lorenzo would be in Japan for a good few days, and we could have really made something of it had I not been sent to the US... These things happen though I suppose!

We did at least have time to meet up for brunch in Shinjuku station this morning, before I headed off to the airport to get on my plane. This was really nice, even though regrettably we only really had just over an hour together. We chatted about lots of things in this short space of time, and I particularly enjoyed some highly useful instruction from Lorenzo, a seasoned travelling salesman, on how to get by effectively when away on business.

My flight took off from Tokyo Narita at just after 3 in the afternoon, Japanese time, and it took not much over 8 hours (apparently it is significantly quicker on the way there than on the way back). For the first time ever in my life I was flying business class. It was pretty nice - the seats were a lot more comfortable and spacious of course, and reclined much better, although I still wasn't able to get to sleep in them. The meals were a lot better too - a proper three course dinner, with proper crockery and cutlery and food that was, well, like "normal" food, not the weird and inexplicable stuff that airline meals normally serve up. So anyway, it was nice being in business class, particularly as it was my first experience of it... Having said that I'm not sure if the difference would really seem worth it if I was footing the bill myself!

Confusingly I arrived at 7 in the morning, of the same day, so then had to proceed to go through Sunday all over again from scratch. I wonder if this travel phenomenon might have been the inspiration for groundhog day...?

It wasn't a particularly eventful first day in the US. As it was a Sunday we weren't required to go to the office or anything, so the day was largely devoted to resting and attempting to beat the jetlag (in my case still a hint of double jetlag). We were met at the airport by a very nice chap from Romania, who is apparently coming to work for our office in Tokyo soon. After checking into our hotel, we had breakfast, and went for a bit of a wander round the local area. It seems we are living on the edge of a mall complex, so everything is very clean and modern but all a bit artificial looking somehow.

I went for the standard post-flight "little nap" in the afternoon, which ended up being about five or six hours. I was woken by a phone call from one of my colleagues in the early evening, he spoke entirely in Japanese and I understood 100% of it, which I was rather pleased about. So the three of us that had flown together (and were also staying in the same hotel) went out for dinner at a Thai restaurant near the hotel. This was very nice, and I was really pleased to find a good vegetarian selection on the menu. Having looked around on the web a bit the day before going to Seattle, it seemed I would actually be able to eat quite well during my trip - there were a good number of restaurants with decent vegetarian food apparently.

Went back to the hotel after dinner and had a bit of a chat about business stuff (for the first time today really) for a while in the lounge downstairs. Then one of my colleagues went off to bed, and the other one went for a walk with me to see if we could find any shops still open. Pleasingly even though it was getting fairly late we found a supermarket open, and stocked up on supplies. Our hotel rooms are more like little appartments really - with kitchen facilities and everything - so it seemed prudent to buy a few essentials "to have in" as my grandmother would say.

After having a beer or two in my room I went off to bed, and managed to get to sleep at a reasonable time, thanks in part to my good friends Holmes and Watson.



Comment 1
I still don't know anything about your job. What is it exactly ?

Posted by Sheri at 2005/10/31 16:00:11.
Comment 2
It was rather cruel that we couldn't stay together longer, but I am sure there will be some more occasions in the future. How's the weather there? It's turning crappily cold here in Tokyo and I have brought only light clothes... :(

Posted by Lox at 2005/10/31 20:07:22.
Comment 3
geeze only pictures of food. You ever wondered why you look so..chubby?? XD
j/k makes my mouth water gehehehe

Posted by random surfer ;) at 2005/11/01 02:31:23.
Comment 4
Well I'm on top of the world then. I have come back from an embarassing night out with my new colleagues (it turns out they hardly drink at all) to find a completely anonymous person has insulted my photography and told me I look fat.

Well thanks for that. If there is some digital way in which you can spit on me too, please go ahead and do that as well.

Posted by John at 2005/11/01 05:52:34.
Comment 5
Sheri - in answer to your question (and thanks for not using it to imply I look fat) - I am in a very unimportant position, working with digital TV for a well known software company... (whose name I do not want to publicise, in case I anadvertently say something about them which is misconstrued, and get into trouble).

Posted by John at 2005/11/01 06:02:15.
Comment 6
John: Just think of Random Surfer as some spotty herbert with no social skills, no taste and few prospects. Throwing stones over the garden wall and running away is a wimps pass-time.

Posted by Nigel at 2005/11/01 10:32:34.
Comment 7
Chin up, mate. You're a tough old bugger and the start is always a delicate and horrid time. (horrid, I learnt this morning is from the latin Horridus, meaning prickly).

It's a right fecker that you're being forced to travel about when you've not got settled yet. This won't last though, once you get into the routine, the quibbles you have at the start will fade away. When you start work proper, at least you won't be communiting 4 hours a day!

Also, don't forget that it's more difficult when you start at a new company because no-one knows you. They don't know your sense of humour and so on. It's difficult to banter and have fun while at work until you do get to know each other. When that time comes, you can relax into your job and enjoy it a bit more. It's worth waiting for.

I admire your bravery for moving to a foreign country with a culture so different to your own and then working with a foreign company withing that other nation. It's a hardnut thing to do (in a 'Love Honour and Obey' kind of way - 'go on stab me'...) and you're carrying it off with aplomb.

To wrongly paraphrase Churchill:

"We shall not flag or fail. We shall go on to the end.

We shall work in Japan,
We shall work overseas and abroad.
We shall work with growing confidence and growing strength in the product.
We shall defend our sanity, whatever the cost may be,
We shall work on the beaches,
We shall work on the landing grounds,
We shall work in the fields and in the streets,
We shall work in the hills;

We shall never surrender."

Posted by Rob Lang at 2005/11/01 10:38:47.
Comment 8
Inspiring words from Rob ....

Did he perhaps miss out ...

'and ... we shall eat in the best restaurants in the world..'

Posted by Dad at 2005/11/01 10:51:00.
Comment 9
I liked

'We shall work on the landing grounds, '

in particular. I have images of John running up a Normandy beach on D-Day with laptop in hand. Then someone probably known as The Sarge ordering John to resize the pictures of the enemy positions to email back to artillery...

Our brave boy in foreignland.

Posted by Rob Lang at 2005/11/01 16:25:58.
Comment 10
Thanks Rob!

Perhaps there is a new career opening for you there - rewriting the words of Churchill's speeches to be in tune with people's personal dilemnas, creating what the Americans might call "a self help tool".

I would love to do one of those motivational speech things the Americans are so fond of (like that Tony wossisname), and just read out the bit from the Life of Brian - "you are all individuals, you have to learn to think for yourselves", etc.

Posted by John at 2005/11/01 16:27:56.
Comment 11
WOW WOW WOW THAT sounds like a touch issue then lol lmao rofl

forget the whole thing, you look just great chubby! oops, mean buddy.

Posted by Very suspicious ;) at 2005/11/04 04:04:22.
Comment 12
Oh well, I suppose there's some things you've just got to accept...

Posted by John at 2005/11/04 06:58:57.
Comment 13
I like the fake "dumb foreigner" page address above, I really thought for a moment that it was a real site!!! :P

Posted by Lox at 2005/11/05 09:39:49.