Gardening and Cooking
Posted on 2005/10/02 14:45:07 (October 2005).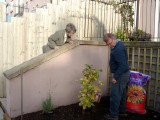 [Saturday 1st October]
Spent the day with Vera and Robin in Abergavenny. Stayed in until late afternoon when we went out and commenced a bout of gardening.

This was surprisingly fun! V and R have recently had their back garden landscaped, but at present there are four large beds with soil but no plants. So we planted a few shrubs etc, and inevitably also had to dig a few up and move them again when the collective design senses of Vera and Robin determined that the overall aesthetic was not quite what they had originally intended. It's funny, I don't recall having seen plants been uprooted and replanted on programmes like Ground Force. Clearly Titchmarsh et al do not have the same deep understanding of the complex interplay between shape and texture that members of my family do!

I made dinner in the evening - I had a strange desire to make rosti, and also was keen to have a go at recreating a combination I'd had on my recent trip to Amsterdam - Portobello mushrooms with pear and brie. This all came out rather well, I'm pleased to report.



Comment 1
Suddenly I can see the attraction of vegetarian food! That's looks, well..., scrummy!!

Posted by Nigel at 2005/10/03 21:19:33.
Comment 2
From the pictures page: "Portobello mushrooms with bear and brie..."

May I ask how you sourced the bear?

Posted by Russ at 2005/10/04 13:40:46.
Comment 3
Thanks for spotting that Russ - clearly I meant to write pear.

However, the alternative spelling makes it sounds like a very unique and exciting dish, albeit not a very ecologically sound (or vegetarian) one.

I don't know, do people ever eat bears?

Posted by John at 2005/10/04 20:16:07.
Comment 4
John would there be any chance for you to add this recipe on the recipe book? It sounds delicious and I wanted to re-make it at home, but I don't understand how you mix it all... And how it is supposed to look more than anything...

Posted by Lox at 2005/10/05 08:14:17.
Comment 5
I often enjoy the bile of a bear. But I could never eat a whole one.

Posted by Russ at 2005/10/06 14:23:52.