Killing Time in Reading
Posted on 2005/09/29 09:20:10 (September 2005).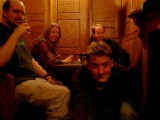 [Wednesday 28th September]
Stayed at Simon's place the previous evening, and when Simon left for work (in his lovely new car) I got a lift as far as Reading University. Had breakfast there, and availed myself of the internet connection on campus for a while. Rob called just before lunch, and suggested that as Kate was also at a loose end we could kill time together. So I wandered into town, we had lunch at Pizza Express, and then went to the cinema to watch Revolver. I found the film quite confusing in places - although it was still a broadly gangster film it was quite different to Ritch'es previous offerings, a lot more cerebral. I'm not entirely sure I liked it, but it certainly did help to pass the time.
Met up with Rob and Byrnie a little later on. Started off with a couple of drinks and some rather crap food in the Back of Beyond, and then went on from there to the Hobgoblin, wherein I enjoyed a couple of very good pints of mild and some very good conversation.



Comment 1
Ah... Back of Beyond.....

Ah... Hobgoblin.....

I am all melancholic now!!!!

Posted by Lox at 2005/09/29 11:34:09.
Comment 2
Cotton club! make me nostalgic!

Posted by little panda at 2005/10/03 15:04:41.