Abergavenny, Reading, Guildford and Maidenhead
Posted on 2005/09/28 10:39:50 (September 2005).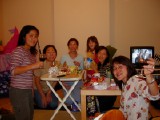 [Monday 26th September]
Complicated travel arrangements seem to be somewhat de rigeur for me and Chie in recent months. We had stayed the previous night with Vera and Robin in Abergavenny. After a spot of breakfast Robin gave us a lift into Newport so we could get on a train towards the South East. Our first stop, albeit a very brief one, was in Reading, were I dashed up to the university to pick up the hard bound copy of my thesis which I'd been wanting to give to my supervisor since July, but hadn't yet managed.
From Reading we then went on to Guildford, as Chie wanted to see my nephew and niece before she went back to Japan. It was also a good opportunity to hand over some souvenirs from Japan - we'd bought my nephew William a pair of Hawkins shoes - no need to sew a label into them, they've conveniently already got his surname written all over! I think Hawkins may actually an Italian brand, strangely enough, although I have never seen them in shops anywhere but Japan.
We left Guildford around 5 or 6, and rather superbly managed to get on the same train back to Reading that Rob was on, on his way home from his job. This gave us the opportunity to have a jolly nice chat, make plans for a night out, and also have a Chupa Chup each, that Chie had bought in Hamburg. This registered as another one of those bizarre moments that my life has been filled with as late.
Our last port of call for the day was Maidenhead, where we were going to stay the night, so that Chie could meet up with some of her friends from where she used to work. It was a little disorientating at first to suddenly be emmersed in Japanese culture again - I think some of Chie's friends assumed I could speak a little more Japanese than I actually can, given that I'd spent the summer there and everything. Well, I tried my best!



Post a comment