Yee and Hauke's Wedding
Posted on 2005/09/20 10:14:02 (September 2005).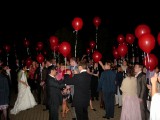 [Saturday 17th September]
Today was Yee and Hauke's wedding - the reason we had come to Germany. It was held in Hauke's home town - Harsefeld - a small-ish place somewhere near Hamburg. It was my first time to go to a wedding in Germany so everything was a mixture of fascinating and at times a bit confusing, but overall very nice...! There was a short-ish church service in the afternoon some time after 3. The reception however, was by no means short - we arrived about 5pm, and didn't leave until 3am! The food was really good, we met a lot of really nice people, the wine flowed freely, even the music wasn't bad - it was, all in all, a very nice wedding.



Comment 1
Great photos! Why is it the one taken of Chie at 22:41:39 seems to be one of those "pictures that speak a thousand words" type of shot? Not sure which words and about what, but it stood out for me. Excellent! (Must get my camera out and practice!!)

Posted by Nigel at 2005/09/20 23:21:12.
Comment 2
Thank you Nigel - but actually I can't claim any credit if there is indeed anything good about that picture, it was in no way intentional! I think I had intended to compose it quite differently and then everyone moved!

Posted by John at 2005/09/20 23:37:16.