Shizunai to Hakodate
Posted on 2005/08/22 03:01:28 (August 2005).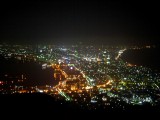 [Monday 15th August]
I don't like planes, you know. In Japan if you tell people you're going to Hokkaido, they will straight away assume that you're flying. I think I read somewhere that Tokyo to Sapporo is the world's busiest flight route. Although I find that hard to believe, I guess there are still quite a lot of flights between the two cities.... but this sort of travel is not for the likes of me. No, I was determined we would get to and from Hokkaido by more conventional means. On the way there we'd taken the ferry, which was great. On the way back we'd determined to do it by train... but not a nice fast sleeper train or anything, no, we were going to go the whole way on the cheap - using local trains only.


During holiday periods in Japan you can get these norihodai ("ride as much as you want") tickets, which let you take as many trains as you want over a fixed period, so long as none of them are any kind of express train. There is a special one for Hokkaido and the east of Japan, which is a snip at 10,000 Yen (about 50 quid), and lets you use just about any train on Hokkaido, or on the main island as far as Tokyo, for a period of five days. This is convenient because, as it turns out, it took us about five days to get from where we were staying on Hokkaido back to Tokyo.

Today was the first leg of our journey - from Shizunai, on the South coast of Hokkaido, to Hakodate, right on the tip, near the tunnel linking Hokkaido to the main island (Honshu). We were travelling for about 9 hours in total, and took about four different trains which stopped at every tiny little station along the way.

Upon arriving in Hakodate, some time after 7, we checked in at our extremely cheap (and therefore pretty grotty) hotel, and then Chie wanted to see the famous night view of Hakodate. The port city of Hakodate is conveniently located right next to a great big mountain (probably an extinct volcano, as seems to be the norm in Japan). We took the bus up to the top, which made for quite a hairy ride - there were no lights on the bus, or on the road, so as not to spoil the view. The bus was pretty overcrowded and kept leaning over to one side with the weight of all the people trying to see the view.... and all this on very steep mountain roads with hairpin bends etc... Oh and after a while there was a burning smell coming from the bus, and I realised in a moment of panic I couldn't actually read the instructions for the emergency exit, as they were all in Japanese.

Anyway, we got there in the end. Yes the view was pretty nice, but for me the sheer volume of people spoiled it. Had me and Chie ambled up there by ourselves, and found only a handful of people quietly appreciating the skyline, then I think it would have been really great... but the reality was that there were hordes of clearly over excited Japanese people, all climbing over each other in a frenzy of picture taking... it was a little unsettling, to say the least.

We went back into the city by the ropeway (that's cable car to the English), and then set about finding something to eat. As it had got quite late by this point, this became quite a stressful exercise, which resulted in me and Chie having a wholly pointless and highly embarassing row in public, before eventually settling on a place that did grilled stuff (called robatayaki or something). Actually the food was quite good in there, but I think by this point we were both a bit too tired and irritable to properly enjoy it. Ho, hum.

Post a comment