A Very Short Trip to Tokyo
Posted on 2005/08/04 03:35:39 (August 2005).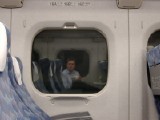 [Wednesday 3rd August]
Today I had my fourth - and apparently final - interview for that job I've been applying for over the last few months. However it didn't actually end in a job offer as I was hoping - apparently the final decision still has to be made, so I will probably hear one way or the other by post.
On previous trips to Tokyo I've stayed at least one night, and tried to do something fun whilst there, but this time for a change I did the journey there and back in one day. It is four hours each way from Hiroshima to Tokyo, so as you can imagine I spent rather a long time on the train all in all! This was fine on the way out, but in the way back it really seemed to drag. To resolve this I had a bit of a chat with my neighbouring passenger (I'm sure there's a better word for that). I'm not really sure if talking to strangers on the train is the done thing or not in Japan, but I was too bored to care! I was very pleased with myself - I managed an entire conversation in Japanese, albeit perhaps a rather superficial conversation about which places we'd visited and so on.
In fact, given that I'd gone to Tokyo by myself for a change, and had bought things in shops etc whilst there, and also spoke a bit of Japanese in the interview, this has to rank as one of my highest Japanese usage days ever.... I am rather pleased with myself.



Comment 1
Omedeto!
Tokyo made ikura desu ka.

Posted by Mum at 2005/08/05 18:12:09.
Comment 2
Just on the phone to your Grandmother .... whilst I type this ......
She says ...
"I have not had one of my usual phone calls since he went back ....!!?. Love Nan."

Number 12 looks great ..

Nan says.."has he had any earthquakes " I said " I think we might have heard if he had"

Dad says ..... what is happening tomorrow for the 50th anniversary of the bomb in Hiroshima ? Are you taking part ?

Dad says to Nan.... "anything else you want to say to John"

Nan says "can't think of anything at the moment.... tell him that Rebecca has just had her appendix out ..and that Ian and Louise are in Greece ... Robin has some good photographs of the graduation in Reading .....that's it ..goodbye..love Nan "

Posted by Dad at 2005/08/05 21:37:24.
Comment 3
Mum - the round trip was about 34000 Yen - 170 pounds. It is not cheap, but when you consider the distance involved (Tokyo to Hiroshima is like London to Inverness perhaps) as well as the efficiency, comfort and reliability, it begins to feel like money well spent! Oh and anyway, I wasn't paying - the company paid my travel expenses as usual.

Posted by John at 2005/08/06 02:36:35.
Comment 4
Dad - yes I will get around to phoning Vera at some point. I keep thinking about it, but for some reason something or other always gets in the way.

Yes today (it's about 11AM Saturday as I write) is the anniversary of the bomb. There was a minute's silence earlier on, but so far as I know we are not going into the centre or anything today.

Posted by John at 2005/08/06 02:49:05.