Hair Cut
Posted on 2005/08/04 03:16:19 (August 2005).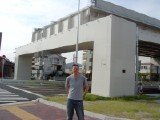 [Monday 1st August]
During my first spell in Japan this year, I can't help but think I wasn't really doing things properly. I made a number of small changes to my lifestyle to fit in, but I didn't go far enough, in hindsight. Chief among these things was that, despite needing a hair cut towards the end, I decided to wait until I got back to England to have one. OK, I'll admit it - I was afraid. I'm quite happy to buy things in shops - the dialogue required is very limited ("I want that one"), however getting a haircut seemed like a significantly more complex venture, in which the consequences of getting it wrong could have been catastrophic.


However, it just isn't practical to fly back to England every coulple of months for a hair cut - it would significantly elevate the price of this exercise for one thing. So I determined today I needed to just bite the bullet and get my hair cut in Japan. If they were determined to make me look like some kind of half Japanese monster with an identity crisis, then so be it. I could always buy a hat.

Having surveyed a number of places over the previous few days, we eventually decided on this place near to the big shopping centre (Diamond City) in Chie's bit of Hiroshima. There were no other customers in there, and the guys were standing around looking very bored indeed. In hindsight this was a brilliant choice, and I can heartily recommend this tactic to anyone facing a similar quandry - find a place where the staff look bored. They were so bored in fact that I suspect you could have walked in with a couple of highland cattle, and they would have happily cut their hair too. They really didn't seem in the least bit worried at the prospect of cutting gaijin hair - I guess I probably wasn't their first foreign customer.

It really wasn't that bad in the end. The only slight difficulty was in describing how short I wanted in. It turns out the grading system used on shears is completely different in Japan to that used in England. So in England I normally have grade 3 or 4. In Japan that appears to translate to 12. Superbly they actually worked out the desired length by asking how long it was since it was last cut. Somehow they could magically work out how much my hair had grown in that time, and basically just reset it to six weeks ago. They're clever, these Japanese.

There were a few interesting anomalies. There seemed to be a lot more messing about with small details than you get at a Barber's in England. There was some sort of puff thing involved - like the sort of thing women use for applying foundation... and they spent a long time sorting out the edges with an assortment of sharp and frightening implements. They washed my hair afterwards, face first which I found a little odd. There then ensued a short head and shoulder massage and some lotions and stuff, and then finally some gel (I recognised that at least!). All of this for less than 2000 yen - under 10 quid - about the same price I used to pay in England. Although I think we'd been very lucky and found a very cheap place - most charge a lot more.

I was actually quite pleased with the end result, it looked a bit different to how it would after a trip to the Barber's in England, but hey, variety is the spice of life and all that. Despite not having seen that many Japanese people with my style of hair, they did seem to actually know what my hair style was, and be able to re-create it.

The rest of the day was fairly uneventful really, went for a drink afterwards to celebrate my new hair cut - (any excuse!), and also went to a supermarket type place round the corner. Had dinner back at the flat, and a bit later on I was bored, so went out by myself to try and buy some unusual beer. It turns out there are companies other than just the usual Asahi, Sapporo and Kirin who make beer - albeit usually on a small and local scale. So I purchased a couple of bottles of Becken Beer, made in Miyoshi, not too far from Hiroshima. Very nice it was too.

Post a comment