Mexican and Programming
Posted on 2005/07/22 05:29:42 (July 2005).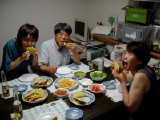 [Thursday 21st July]
Spent a large part of the day doing some programming work - Rob had asked for a new feature in Photo Studio. It had been a long time since I had worked on the program, so it took a while to get back up to speed - especially as I was now using a completely different version of the development environment and so on. Still, I got there in the end, and it felt good to be doing something productive.
We went out for a bit in the afternoon to do a spot of shopping - and again to go somewhere with better air conditioning than we have in the family's flat! I decided I was going to cook tonight, and given the hot weather and everything it seemed appropriate to have a Mexican dinner. I even managed to get hold of some Sol and Corona, so we could really do the works! It came out rather well, even if I say so myself. I realised that, similar to my programming task, cooking was something that I hadn't done for a while, having spent the last few weeks staying in hotels and other people's houses. It felt really good actually, and I reminded myself how much I enjoy being creative in the kitchen!



Comment 1
I see the Marmite is still there, extreme right of photo. Have you ever thought of setting up an English shop to import food for ex-pats?

Posted by Mum at 2005/07/23 11:21:41.
Comment 2
I am impressed by your observational skills Mum!

Posted by John at 2005/07/23 14:04:51.