Kobe
Posted on 2005/07/18 03:11:27 (July 2005).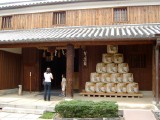 [Sunday 17th July]
Spent most of the day in and around Kobe. In fact this is the first time I've ever visited the city proper, although have been through it on the train many times. We started off with a visit to the famous Sawanotsuru sakagura (sake brewery), which is now a museum. I found this really interesting - and for once actually sat through and watched the video thing (I usually find these tedious in museums) and learnt a few bits and pieces about the sake brewing process. In reality probably not that much has sank in - I am still in a similar state to before, being vaguely aware it is made from rice, and there's a lot of washing and polishing involved.
We had Italian for lunch, and after that went for a wander around Kobe, taking in Chinatown and the city hall, which has some great views out over Kobe. Kobe seems to be a really nice city, although I have to admit finding it a bit of a struggle to get around - a combination of triple jetlag and a developing cold left me really short of energy. To save money we decided to get a bus back to Hiroshima rather than the usual shinkansen. I usually kick up a fuss about this - assuming bus journeys to be long, tedious and uncomfortable, but actually it wasn't that bad... not to mention it was half the price of going by shinkansen!



Comment 1
The saving money bit must have been Chie's idea, right? :)

Posted by Lox at 2005/07/18 08:13:31.
Comment 2
Yes you're right Lorenzo... However, I have this at the back of my mind too - it has been four months now since I left my job, and the money reserves are starting to run a little low!

Posted by John at 2005/07/19 08:30:16.
Comment 3
couldn't resist using the japanese google translater beta thingy when I saw this...
/john/pictures/japan2005second/07-17-kobe/SANY0254.JPG
...in this picture.. http://translate.google.com/translate?hl=en&sl=ja&u=www.collabo-labo.com/&prev=/search%3Fq%3Dcollabo%2Blabo%26hl%3Den%26lr%3D
Giant Fishes are brilliant!

Posted by Kev at 2005/07/20 21:11:08.