Koyasan and Kobe
Posted on 2005/07/17 02:03:32 (July 2005).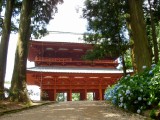 [Saturday 16th July]
We woke early - about 6ish, to go and pray with the monks in the temple we were staying in. This is the second time Chie and I have done this, and it was quite a different affair to last time - a lot smaller and more intimate. The room was very dark and atmospheric, and it was hard not to be caught up in the whole thing. It was shorter than the time we'd done this in Kyoto as well - maybe only 30 or 40 minutes, which suited me fine as I'm no good at sitting on the floor for any great length of time. After this, breakfast was served, again in our room. My appetite had clearly started working again - my stomach had been growling a bit during morning prayers to my embarassment - and so I enjoyed this breakfast immensely.
After breakfast there was the task of getting clean at hand. To my embarassment, I have to admit having something of a psychological problem with communal baths in Japan, which are commonplace in this type of traditional inn. I am always self concious in Japan about being out of place, being stared at because I'm obviously somewhat different looking, and doing the wrong thing and offending people. All of these concerns are somewhat heightened by the prospect of being naked as well! I was determined however, that this time in Japan I was going to start conquering these fears, and learning to adapt more to the Japanese way of life. So for the first time ever (OK with the exception of one visit to an Onsen - but it was dark and I was drunk!) I thought sod it, I am going to go and use that communal bath. Chie gave me a little lecture beforehand on all the dos and don'ts - basically the bath itself is clean water and should stay clean. So you wash by the side of the bath before you get in, sitting on these funny little stools, and making sure you don't splash lots of soapy water into the bath. As with all these things it wasn't too bad in the end, I pretty much had the room to myself, there was just one guy leaving as I was entering.
I was still fairly early in the morning - to me at least - when we checked out of the shukuboh. We spent the remainder of the morning having another wander around Koyasan. There really are more temples than you can shake a stick at, and unlike Kyoto they're all in walking distance of each other, as it is only a small town. I took an absolute ton of photos, and probably the pictures describe that morning's wanderings better than any text here would.
We left Koyasan arround midday - and I particularly enjoyed the return journey on the sort of cable car thing that does the last bit of the mountain which is a bit too steep for the train. We ate lunch on the train, and arrived in the centre of Osaka around 2ish. After meandering about for a bit doing as we pleased - having a waffle and a beer, we headed over to Chie's cousin's house, somewhere between Osaka and Kobe.
We arrived at Chie's cousin's house around 4, and yet again I succumbed to a nap not long after arriving. I'm probably not handling this jet lag particularly well! We headed out at around 8 for what we believed was going to be an Italian restaurant - but when they told me the name - Ygrec - I suggested it may actually be French. My suspicions were confirmed on arrival, it was indeed French, and also rather posh. French food is notoriously bad for vegetarians, so I had pretty much consigned myself to a meal of beer and a couple of bread rolls. Actually though, following a bit of negotiation with the chef, they laid on a special menu for me which was actually very good. I always think flexibility is a sign of a good chef!



Comment 1
Wow, John. That's been some journey!! Glad you and Chie are back together again. You know, until you just mentioned it, I'd forgotten about Kobe. Epicentre of the horrendous earthquake, wasn't it? Had Chie's cousin been affected by it? (Sorry, daft question - of course he/she had!) But I suppose I mean "directly"...

Posted by Nigel at 2005/07/17 21:11:31.
Comment 2
As it happens Nigel, the following day we went to an old sake brewery that had been completely knocked down by the earthquake. There were some pictures of what the area looked like after January 17th 1995, and it reminded me of the pictures of Hiroshima after the bomb - total devastation. I think this is something the Japanese deal with much better than other countries would - they just seem to accept it, and pretty much the next day set about rebuilding everything. The sake brewery, for example, has been rebuilt using many of the original wooden beams, and it looks great.

Posted by John at 2005/07/18 03:01:15.
Comment 3
Oh and incidentally I don't think Chie's cousin was living there at the time -she's originally from Hiroshima, the same as the rest of Chie's family...

Posted by John at 2005/07/18 03:03:01.
Comment 4
Fascinating stuff, mate. I like your take on the communal bath - I think it's very British to be unsure of nudity. I didn't like showering at the gym at first and now I wander about in the nod with the best of them.

Love the pictures, all fab.

Posted by Rob Lang at 2005/07/18 15:22:29.
Comment 5
Awesome workout today, evroneye! Y'all smoked your run/rowing!29:57Previous 5K was 29:47 a little disappointed I could not better that time. My legs, surprisingly, were dead going up hills usually it's the breathing . I'm feeling the weekend and yesterday's workout for sure.Swimming afterwards felt great thank you, Jon, for the lesson! I feel like I'm improving, for sure.

Posted by Yackiie at 2013/03/17 13:30:46.
Post a comment