A Flying Visit to England
Posted on 2005/07/17 01:51:47 (July 2005).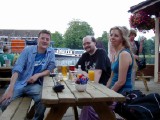 [Wednesday 13th July]
Everybody said "wouldn't it be easier to just get a flight from Seattle straight back to Japan...?" Yes, it would of course mean less flying hours, but in terms of arranging tickets and perhaps more importantly visas, it would have been a lot more complicated. So I was left with the unusual situation of flying back to England for one night only. The flight from Seattle arrived just before midday as a result of the time difference. I decided I would go mad if I had to spend a whole day hanging around in the airport, so opted instead to go to Reading. I got the coach there and arrived in Reading by about 1ish, ran a couple of errands in the town centre, and then pretty much checked into a hotel and went straight to bed.
After an afternoon nap, I headed out around 6ish to see if I could meet up with anyone for a drink. Rob and Kate were planning on going to the cinema, but very kindly abandoned that plan to go for a drink with me instead, and better still Byrnie came long too. I had a hankering to sit by the Thames, and thought at first about going to a pub in Reading called Three Men in a Boat, which, despite the superb name, I had oddly never been in before. As it happened it was closed, so instead we went to a different place across the road, which was probably just as good. It was really great to have this interlude amidst my travels, and be surrounded by some familiar faces, and I'm extremely glad I didn't just stay in the airport in the end. Concious that I still had another leg of my insane week of travelling to go, I didn't stay out particularly light, and was back in my hotel room by 11.



Comment 1
And always jolly nice to spend an evening with you, too! Had a jolly nice time, drank some lovely whiskey and the Pimms was a fab idea.

Posted by Rob Lang at 2005/07/18 14:51:50.
Comment 2
Yes Rob it was super - thanks again for changing your plans to fit me in! It really made a difference to my crazy travelling week to see some friendly faces, given that I'd spent most of the week in foreign places surrounded by complete strangers...

Posted by John at 2005/07/23 05:58:25.
Post a comment