Dr John Hawkins
Posted on 2005/07/09 13:30:42 (July 2005).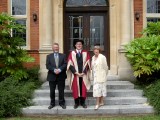 [Thursday 7th July]
Today was my graduation ceremony - when I officially became Dr John Hawkins. It was a really great day, and I am so pleased I was able to qualify in time, and fit this in before going back to Japan. Lots of my family were there - Mum, Keith, Dad, Lucy, Vera and Robin all came along which was really great. It was also great to have a lot of friends there - more than I had expected. Mark and Hamdan were both graduating at the same time, which was fanastic, and Rob and Brynie were also there to cheer us on. The ceremony itself was at midday. We hung around for a while afterwards, but by just after 2 everyone was getting really hungry, so we headed off to Pangbourne for a bite to eat. We just missed the food shift at the Cross Keys, so instead went to The Swan, which actually turned out to be very nice. This seemed sort of fitting - my first ever visit to Pangbourne started at The Swan (we arrived by boat!). I doubt this will be the last time I go to Pangbourne, but my graduation does sort of mark the end of my formal association with the area... Anyway, around 5 or 6 my family started to head off home, and I got a lift back into Reading. Spent the evening with Rob, Byrnie and Mark again, having a few quiet drinks as all the celebrations gradually wound down.... A really great day!



Comment 1
Dear John
We were in a marquee in Reading. A marquis is a French nobleman. I haven't got a Ph.D, but at leest I no how two spel rite.
Good Luck in Seattle.
xxx

Posted by Mum at 2005/07/10 17:15:47.
Comment 2
Congratulations old man! Well deserved.

Posted by Rob Lang at 2005/07/11 24:39:57.
Comment 3
Well done!

Posted by Louise (Liz's sister) at 2007/03/11 21:35:25.