Last Day in Japan
Posted on 2005/06/09 13:55:32 (June 2005).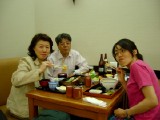 [Monday 6th June]
I didn't realise it when I woke up, but this was going to be my last full day in Japan. I'd had a provisional date for my PhD viva, and given that I would need some time to prepare I was planning to go back to England some time this week. On phoning the airline to check availability, it turned out the flights on Wednesday and Thursday were both fully booked. So I had the choice of either leaving it until Friday (which was a bit too late) or going back Tuesday - tomorrow! So I decided to go back on Tuesday. As the flight was going to be early in the morning, I needed to stay a night in a hotel in Kansai airport. So I spent the afternoon packing my things, and we headed into the centre of Hiroshima for an early goodbye dinner with Chie's family, before getting on the shinkansen about 7ish.




Comment 1
John, I assume that the Cornish bakery bake their own cakes etc. Perhaps you should ask where they get their dairy products from ? Maybe when you get back, you could 'borrow' some nice butter and milk !

Posted by Kev at 2005/06/09 22:27:48.
Comment 2
Oops, this comment should be for the previous day when you actually went to the bakery!

Posted by Kev at 2005/06/11 20:26:16.