Lorenzo and the Yukata Matsuri
Posted on 2005/06/06 05:43:39 (June 2005).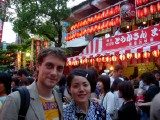 [Friday 3rd June]
Lorenzo was coming to stay with us for the weekend, so at lunchtime me and Chie went to Hiroshima station to meet him. After a spot of lunch and a quick bit of shopping, the three of us headed back to the flat to drop off Lorenzo's bags etc. Chie had mentioned there was a Yukata Matsuri (errr, Japanese costume festival?) on in Hiroshima, and to my surprise Chie went off for a little while in the afternoon to her grandmother's house to have her Yukata fitted. This is the first time I've seen Chie in a proper Yukata, and she looked really adorable!
Around 5 or six we headed back into the centre of Hiroshima. We kicked off the evening with an early dinner at Sushi-Tei, then went for a wander round the festival. So many people had turned out in Yukata, it was really great to see (normally Japanese day-to-day dress is disappointingly western). The rest of the evening consisted of a sort of bar crawl interpsersed with wandering around the festival. We managed to fit in a visit to Bar Fukuzawa, as recommended by Watanabe-san from Quercus Bar in Tokyo. Had a Port Ellen 4th release and a Clynelish there. Also went for some ice cream at the Haagen Dazs cafe, and rounded off the evening in an izakaya I've been to before - one which brews it's own beer. All in all a very nice evening out!



Comment 1
Now you see, apart from neatly parked deer, I also like mini-tripods especially designed for photographing beer! Man's inventiveness knows no bounds! A bit worried about green beer though...

Posted by Nigel at 2005/06/06 09:50:09.
Comment 2
The green beer was got a fine place in the food/drink-stuff that I DON'T like in Japan. Considering that there was only one thing until 2 days ago (it is called OSECHIRIORI and I can't stand it) it's quite an achievement...

Posted by Lox at 2005/06/06 14:02:46.
Comment 3
Hmm, that's the New Year feast in trays, isn't it? Well as for beer, I am gravitating to the idea that the darker the better... Currently that is a Guinness! A good, dark brown! Though I do have a soft spot for Asahi and Tiger "blonde" !

Posted by Nigel at 2005/06/07 18:37:57.
Comment 4
Completely agree, can't beat a Guiness. As for Osechiryori it is the one that they dish you at new year's eve, so I guess that my only hatred in terms of Japanese food is pretty restricted to only one day in the year! :) Lucky me!

Posted by Lox at 2005/06/08 14:05:23.