Walking up a Mountain (sort of)
Posted on 2005/06/02 03:46:35 (June 2005).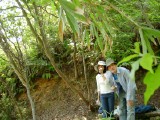 [Tuesday 31st May]
After the previous day's awful display of utter laziness, we were determined we ought to get out and do some exercise today, and decided to go and walk up a mountain. So we headed over to the sort of country park place (where I've been once before) on the understanding that we'd walk up one of the surrounding mountains. It was, however, quite a hot day - about 28 celsius, which I'm just not used to back in England... So walking was really hard work, and we didn't quite make it to the top of any mountains. We got halfway up, errr, somewhere or other. We'd definitely climbed a fair bit, but the paths were all a bit confusing, and it was hard to tell which mountain we were climbing. Anyway, one way or the other we had a decent walk, and also managed to fit in a spot of lunch whilst out.



Comment 1
Ahh, so I'm not the only one with a penchant for risque headwear?!?

Posted by Nigel at 2005/06/02 11:49:21.
Comment 2
Hmmm I thought it was a fairly conservative choice of hat! It was a necessity more than anything else - being an Englishman, and one who often takes holidays in Scotland, I'm just not used to being out in hot sun for any length of time...

It is a shock to be in a country where almost no hats fit you properly. I don't like the realisation that my head is fatter than just about everybody else's!

Posted by John at 2005/06/03 03:38:51.
Comment 3
Quote "Tuesday 14:11 Me pointlessly standing on one leg, and sporting my brand new hat, bought specially for this walk, which was a tiny bit too small." - Which was too small John, your leg, the walk or your hat?

Posted by Kev at 2005/06/03 18:15:09.
Comment 4
Not sure if that was a rheotircal question, but still... I meant that hat, but now you mention it, I think I do have one leg slightly shorter than the other, and also the walk wasn't as long as originally intended (i.e. we didn't get to the top of any mountains).... So yes I guess it could apply to any of the three really.

Posted by John at 2005/06/05 02:30:12.