The Slow Boat to China (actually, train to Hiroshima)
Posted on 2005/05/30 05:38:38 (May 2005).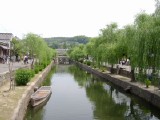 [Saturday 28th May]
We set off from Dale and Erina's first thing in the morning, and decided to try and make our way back to Hiroshima using only local trains, as apparantly the ticket we'd bought on Thursday was still valid for travel, but the "express" portion had expired, or something. Anyway, we weren't in a particular rush to get anywhere, so it made a nice change to take in some scenery etc by doing the journey a bit slower than usual. The first leg was from Mukomachi (which I couldn't pronounce to start with, so had instead dubbed "Muchos Gracias") to Shin-Osaka, which didn't take very long. From there we got on train number 2, to Himeji, which apparently took over an hour, but we must have slept through a lot of as it only seemed like ten minutes. Having made excellent progress as far as Himeji - which, given my limited understanding of Japanese geography I had though was about halfway - things started to drag a bit. The next leg (train number 3) was Himeji to Aioi, and from there we got a train past Okayama to Kurashiki, where we decided to get off for a bit of a wander, as it is quite a nice place. Sort of Venice meets Kyoto, I suppose, but on a fairly small scale. We had lunch in Kurashiki too - some very nice pizza, and also visited a jazz cafe for a quick drink, before getting back on the train.
The next leg (train number 4) was from Kurashiki to Fukuyama. After Fukuyama we got a train (number 5) as far as Saijo, the sake distilling place not too far from Hiroshima. Finally our last train - number 6, took us to the station nearest to Chie's family's house. It was about 7 when we eventually got home, so taking off at most 2 hours for our break in Kurashiki we'd spent about 8 hours travelling from Kyoto to Hiroshima - about three times as long as it would have taken by Shinkansen!



Comment 1
In order to save money I travelled from Kyoto to Tokyo only with local trains. It took 12 hours, countless changes of train, and we couldn't get out of the station because we were trying to rip off JR (which eventually we suceeded in doing)... a HELL of ride, but a good memory nonetheless...

Posted by Lox at 2005/05/31 10:37:45.
Comment 2
12 hours to Kyoto...? This is a bit longer than I would have thought, but I guess it's not impossible. So that would mean the total journey from Tokyo to Hiroshima by local trains only could be in the region of 20 hours....?!?! One has to wonder if this is how people got about before the days of the Shinkansen - this must have made Hiroshima pretty much a seperate country to Tokyo.

Posted by John at 2005/06/01 04:26:52.
Comment 3
Ahhh, so things are not quite so efficient as we presume, under the surface? On a different note, I have not been as far afield as you guys, but I remember being in Germany once, standaing on a platform waiting for the 8:30 train. I was almost gleeful as my watch said 8:29 and no sign of a train, Then it changed to 8:30 and as if by magic a train rolled up :/

Posted by Nigel at 2005/06/01 07:23:47.
Comment 4
Let me know when you find a train selling whisky, then I'll know you have found your perfect way to travel.

And watch the marmite intake.

Posted by Mum at 2005/06/01 18:27:54.
Comment 5
Mmmm.... whisky train....

Posted by John at 2005/06/02 02:10:22.