Yamazaki
Posted on 2005/05/30 05:18:53 (May 2005).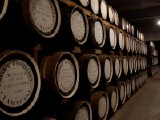 [Friday 27th May]
Having stayed the previous evening at Dale and Erina's place, we thought we would make good use of our location and go to visit something nearby.... and guess what, we were just a stone's throw away from Yamazaki Whisky Distillery. Having recently done rather well in the Whisky Magazaine 2005 "whisky of the year" awards, and having had some experience of this distillery from the SMWS back in England, I was naturally very excited at the prospect of going there.
It made for a great day out - for me at least. The distillery is easily accessible, and perhaps a little more urban than I'm used to when thinking about Scotch distilleries, but on the inside I could just as well have been touring any distillery in Caledonia. The free samples were a particular highlight - they were exceptionally generous - and following on from that there was a sort of bar in the lobby (worth a visit by itself) where for some extremely modest sums you can sample a wide range of Yamazaki expressions (and other whiskies too as I recall). For the rather silly, throw-away sum of 500 Yen (about 2 pounds 50) I was given a set of five Yamazaki expressions at cask strength - 8, 10, 12, 15, 18 or something like that. Admittedly these were small measure - 10ML I think, but still tremendous value.
As an added bonus on the way round the tour I also got chatting to another couple of Englishmen who worked somewhere nearby - Simon and Dominic. It's always great to make new friends like this!
We decided to stay on another night at Dale and Erina's, as we were having such a nice time. In the evening we had gyoza for dinner, when poor old Dale got home after what must have been a very long and hard day for him - I couldn't help but feel guilty about having got up late and bummed around all day while he was hard at work! Oh well, that's life I suppose!



Comment 1
I wouldn't worry about feeling guilty in front of Dale for bumming about - he spent years doing it.

Posted by Rob Lang at 2005/05/31 15:25:18.
Comment 2
Yes, there was a definite nostalgic glint in Dale's eyes when I mentioned my current occupation was bum-ism.

Posted by John at 2005/06/01 04:23:59.