Tokyo
Posted on 2005/05/29 02:19:38 (May 2005).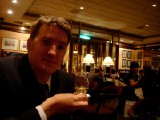 [Wednesday 25th May]
Had to travel to Tokyo a couple of days earlier than expected for an interview. So got on the shinkansen in the morning, and spent the four hour journey listening to my new MP3 player - these frequent long journeys I've been making recently have been one of the chief reasons for buying it. Again the interview, which started fairly late in the working day and extended into the early evening, went OK I think. After that, we checked in at our hotel - The Washington Hotel, dropped off our bags, and then headed out for a drink. We went to St. George's Bar at the Hilton, because they have an arrangement on at the moment with the SWMS - superbly I can drink a selection of whisky society bottlings there. This was really great - I had a 93.13 (Glen Scotia), and in a single sip I was taken back to the quiet havens that are the London/Edinburgh venues of the society. It ended up too late to go to any restaurants or anything - particularly as in the bit of Shinjuku we were in everything seemed to cater for the office workers and therefore closed earlier. So instead we settled for stocking up at a conbini, and having a rather unglamorous dinner in our hotel room. Still, nice nonetheless.



Comment 1
I usually go to the Shinjuku Century Hyatt, which is down the road from where you are!!! It's strange that in Shinjuku you didn' find anything to eat, of course if you go out at 11/12 in the evening there is no chance... I know so many places around Tokyo now, I could write a new edition of Lonely planet... "LONELY-LORNEZO" sounds good eh?!

Posted by Lox at 2005/05/30 12:42:16.
Comment 2
The hotel was chosen for me by the company I was having an interview with. I think otherwise it would have been a case of staying somewhere extremely cheap (if Chie had been choosing) or the Hilton if I'd been choosing (because of the whisky society connection). In the end I guess we got the best of both worlds - the bar at the Hilton was open to non-residents, and they did an excellent job of making me feel like a VIP when I showed them my whisky society membership card :)

Posted by John at 2005/05/30 05:50:38.