Tambo
Posted on 2005/05/24 04:07:49 (May 2005).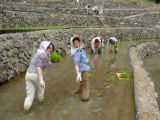 [Sunday 22nd May]
Tambo is Japanese for paddy field - i.e. the place where rice is grown. This is where we went today - to Chie's aunt and uncle's allotment style tambo, to plant this year's rice crop. We had to get up early for this, as it was some distance away. At first I wasn't exactly sure why the family would choose a tambo so far away, when the Japanese countryside is absolutely littered with them... but when we got there it became clear - it was a really magnificent spot. Whether or not the great scenery makes better rice I can't say for sure, but I'd like to think it does. Planting the little seedlings was surprisingly wholesome and fulfilling work, and very quick too, as there were six of us and it wasn't such a huge tambo. After this we had lunch at the farmhouse, and then motored back towards Hiroshima. Had dinner at an Italian place with Chie's aunt and uncle, and then headed back to Chie's parents' house for the rest of the evening, to rest in a satisfied manner after (something at least resembling) a decent days' work.



Comment 1
Breathtaking scenery in the pictures, sir. I really like the ones down the valley. I too can see why they chose it.

Perhaps the distance was not all that great but you're still suffering from the English complaint that anything further than 5 miles is a lifetime away. I think we're the only westernised country that thinks that way!

I like Chie's hat. Reminds me of... a bonnet, you know... like milkmaids used to wear. I agree with your peasant farmer's comment and I was hoping you might get a picture of a huey gunship dropping off some rangers while playing 60s/70s rock music.

A great day out!

Posted by Rob Lang at 2005/05/24 09:43:40.
Comment 2
Wow, rather amazing pictures there, I have never been to the rice field, though my host family had one. Apparently granfather didn't like gaijins too much so in the end they never took me there... :)

Posted by Lox at 2005/05/24 10:19:19.