Another Lazy Day
Posted on 2005/05/21 06:05:21 (May 2005).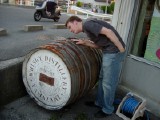 [Friday 20th May]
Another fairly lazy day in Hiroshima. Stayed in most of the day, with the exception of an outing around 6ish to go to the post office (they seem to open a lot later in Japan than in England!). On the way back from the post office we came across a shop selling furniture made from old whisky barrels which was obviously of particularly interest to me. Although the shop was closed, there was a barrel conveniently left outside, which made me very happy. We also popped to Tsutaya - the video rental place. It seems I have now exhausted the catalogue of Miyazaki/Ghibli flims - at least the ones worth watching - so I had to look elsewhere. I chose Ying Xiong (Hero) in the end, as I rather like Jet Li. I watched it later on that evening, but am not totally sure whether I liked it or not. There seems to be a sort of sadness and fatalism in a lot of Eastern films which I find rather depressing - quite why everyone always has to die at the end I am not sure. Call me a sucker for tradition, but I rather like everybody riding off into the sunset at the end of the film.



Comment 1
Even this person has heard of Jet Li. Also called "Nameless", I believe? Happened to be profiled in The Radio Times this week.
Saw a book on Scottish Whisky Distilleries in a charity shop this week, but didn't buy it for you as you seem to be well on the way to discovering them all for yourself. Anybody would think you were brought up in a pub.
M.

Posted by Mum at 2005/05/22 17:29:51.
Comment 2
Lazy days are fine, you know! :)

This picture is a fave of mine:
/john/pictures/HiroshimaAgain/thumbs/SANY0009.jpg

Posted by Rob Lang at 2005/05/23 09:26:35.