Travelling back to Hiroshima
Posted on 2005/05/18 14:08:59 (May 2005).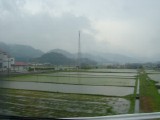 [Wednesday 18th May]
Checked out of our weekly mansion just before 10 in the morning, and headed over to Shinagawa from where we would get the Shinkansen back to Hiroshima. Met Yuka before getting on the train to pick up a suitcase, and spent a while hanging around in Shinagawa station as our train wasn't until after midday. The train journey took four hours - actually very quick considering the distance covered - and we got back to Hiroshima at some time after 4 in the afternoon. Spent the rest of the day/evening relaxing in Chie's family's flat, drinking Meiri sake and having a drawn out dinner. Splendid.



Comment 1
Ah, the life of the idle rich. Sipping sake in Japan. who would have thought it, 10 year ago you'd be sitting there drinking Meiri sake. Back then, you were lucky to have the price for a cup of cold tea. Without milk or sugar. Or tea.

In a cracked up 'n' all. We were lucky to have a cup, we used to drink out of a rolled up Spark.

Of course, the best we could do was suck on a damp rag dipped in effluent.

But we were happy, though we were poor. My dad used to say that money did buy you happiness. He was right, I was happier then and I had nothing. There were 6 of us living in a tiny end of terrace.

Aye, that were were. With shitey furniture that kept fallin' apart. But then, we were lucky to have furniture, some had to sit on a cold floor.

Stone floor? You were lucky, ours was electrified.

etc etc

Posted by Rob Lang at 2005/05/18 16:41:03.
Comment 2
Mmmmm Meiri Sake... I will ask for some of it next June... All in all looking at the tone of the "blog" John is having quite a lot of fun, a sort of holiday but without that nagging feeling that you have to go back to work!! TOP SCRAM !!

Posted by Lox at 2005/05/19 11:26:52.
Comment 3
So, basically Lox what your saying, is that John has left his job and is going to 'walk the earth' meeting people having adventures and drinking lots of alcohol ! Don't they have a name for that?

Posted by Kev at 2005/05/19 16:28:29.
Comment 4
Apparently I have been confused and we were actually drinking Okada-shuzo - it is the sake made by Chie's friends' family's sakagura (sake brewery/distiller/whatever you call it). Meiri is another producer somewhere in Ibaraki-ken - a prefecture north of Tokyo. However, from the original explanation it may be that there is some connection between Meiri and Okada, I didn't totally understand at the time.

The area it came from is apparently not so famous for sake, so it may be hard to find that sake elsewhere...

Posted by John at 2005/05/20 02:44:55.