Shukun and Yukichan
Posted on 2005/05/15 16:08:45 (May 2005).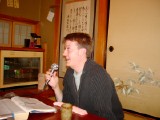 [Sunday 15th May]
Another day with one thing planned and another actually happening. We'd planned to go and visit Chie's friends' Sakagura (the place where sake is made). Although we did go and visit Chie's friend, somehow or other we never quite got to the sakagura. Still, we had a very nice time regardless, and were treated to some really wonderful hospitality by Shukun's family. This included a few hours spent in the family's izakaya, trying to work our way through an umanageably huge feast, interspersed with bouts on the karaoke machine. Particularly enjoyed meeting Shukun's niece - 3 year old Yukican, who is absolutely adorable.



Comment 1
Looking at your photos is very confusing JH, its 6pm on Sunday now but last photo is taken at just after 8pm, two hours in the (my) future!! But of course all that really happened at 11am my time.... Ggrrrrr going.. to.. head... hurts.. explo..de.. agghhh

Posted by Kev at 2005/05/15 18:11:20.
Comment 2
I agree. Time adjust your photos, damn you man. Are you trying to drive us mad?!

Posted by Rob Lang at 2005/05/16 24:34:44.