Shinjuku
Posted on 2005/05/15 16:00:55 (May 2005).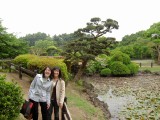 [Saturday 14th May]
This was a weekend where we planned to do one thing, which didn't really materialise, and ended up doing something else instead. Today we planned to go to Kamakura, a place not too far from Tokyo - sometimes called "The Kyoto of the East", but for one reason or another this didn't really happen. Instead, we had an incredibly lazy morning, and didn't really get out of our weekly mansion until after lunchtime. We then met up with Yuka around 3ish in Shinjuku, and went for a wander around Shinjuku gardens, which are very nice, and I made a mental note to go again some time.
After that we went to a cafe place for some cake followed shortly after by dinner (an inexcusable trangression of the "savoury before sweet" rule which my mother would not be happy about!). Dinner was at this Italian pizzeria place. Actually the pizza - mine at least - was a little uninteresting, but some of the other dishes were pretty good. For some reason or other I didn't feel so well after this - I am beginning to wonder if the water you get for free in Japanese restaurants etc isn't always so clean, this is the second or third time I've had a bad stomach ache on this trip to Japan, and the water has been the only common factor. Anyway, as a result we went back to the weekly mansion fairly early, and I had an early night.



Comment 1
Actaully, not too worried about your sweet before savoury adventure.

You do realise when you are writing this that your poor old Mum back in England reads it avidly, don't you?

M.

Posted by Mum at 2005/05/17 22:04:01.
Comment 2
I'm wholly aware that you read this Mum - and was hoping this might get a reaction from you!

I have tried in vein to teach the savoury before sweet rule to Chie, but it seems this style of thinking is quite unheard of in Japan.

Believe it or not, for me at least, it did actually sink in eventually and I am now a strong convert of the philisophy of not eating sweet things before savoury.

Having cake before pasta/rice/whatever is the first step on the road to anarchy!

Posted by John at 2005/05/18 14:55:52.