Thursday
Posted on 2005/05/06 10:44:12 (May 2005).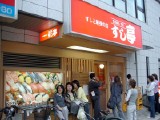 [Thursday 5th May]
Spent most of the day in the centre of Hiroshima - had Italian food for lunch, some fried tempura type stuff as a sort of mid-afternoon snack, and then sushi at Sushi-Tei for dinner. After that went on to an izakaya with Chie for a bit more drinking. Consumed a credible amount of beer and sake during the course of the evening.



Comment 1
John, might I ask as to why you are not searching out all the 'english' pubs and fisn'n'chip places? Surely this is a requirement of an englishman abroad to ensure that they enjoy as much local culture as possible :)

Posted by Kev at 2005/05/06 11:10:38.
Comment 2
Good point, Kev.
Also, I want to know if you got bladdered to the point of being ill this weekend.

Posted by Rob Lang at 2005/05/06 13:41:47.
Comment 3
Haven't really been presented with the option yet to go to English pubs etc... I think I may wait until Chie is not looking.

Posted by John at 2005/05/07 08:56:24.
Comment 4
I think I'm actually limiting myself a bit on beer consumption subconciously at the moment, being aware that a lot could go horribly wrong if I got really unruly and drunk. Besides, it's not much fun having a really bad hangover whilst staying at someone else's house!

Posted by John at 2005/05/07 09:03:34.
Comment 5
John weren't you supposed to be vegetarian?! How could you go and eat sushi then?

Posted by Lox at 2005/05/09 10:46:36.
Comment 6
Some sushi places have a surprising amount of non-fish sushi. At Sushi-Tei one of their specialities is Ha-Wasabi (wasabi leaves). I think this might be a Hiroshima speciality - I haven't seen it so much elsewhere in Japan. Another thing they do particularly nicely is umi-budo - I guess this literally translates as sea grapes, and it is a kind of seaweed. In addition there's the usual things like tamago and shiitake, curi and takoan. All in all for a sushi place with a borad enough menu there's actually quite a lot I can eat...

Posted by John at 2005/05/12 14:45:28.