Digitising
Posted on 2005/04/14 22:00:36 (April 2005).

[Wednesday 13th April]
Spent most of the evening recording CDs into MP3, and enjoying immensely the thingy in XP that goes off and grabs album covers from somewhere on the web. It is so nice to see a view of a folder wherein each album has a little thumbnail of the cover as its icon. Good work Bill and co!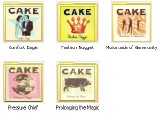 Comment 1
Ah now... How does that work John? I've been doing my own "ripping" and using my own labourious searching to find album art on the net and importing that. I installed WMP 10 but haven't discovered the option you mention :/ So I take it each folder with the album cover on it contains the MP3/WMA files ???

Posted by Nigel at 2005/04/14 22:26:30.
Comment 2
This is how Micro$oft know which mp3s you have been illegally downloading from the interweb. Your information has been passed onto the BPI and you are now in a database for illigal music downloads - fortunately you are 4,200,507 in the queue for prosecution.

Posted by Kev at 2005/04/14 22:32:13.
Comment 3
Yes, Kev. I was stunned to learn that even if you actually, physically own the CD you "rip" it is also subject to much the same rule. Barmy! As long as all those people who for years taped their CDs to use in the car, come first though, we should be ok... :)

Posted by Nigel at 2005/04/14 22:58:45.
Comment 4
Nigel - I don't know how it works - it just does. Sometimes I was going into Media Player and adding a folder to my media library, but sometimes - terrifyingly - I would just copy across some MP3s from my other machine (not XP) and as soon as the files were copied it would go off and find the album cover without me telling it to do anything.

I wasn't aware that you weren't supposed to make MP3s for your own use of CDs you actually own. If this is so I would like the record companies to pay for my excess baggage allowance to cover the 100+ albums I want to take to Japan. Alternatively they could let me turn them into MP3 and store them on my laptop at no additional weight.

Posted by John at 2005/04/15 09:45:16.
Comment 5
There is a Linux program (see amarok.kde.org) that does this. It works by doing an Amazon search based on the IDv2/3 artist/album tags and retrieving the cover picture from there.

Posted by Paul at 2005/04/15 16:31:08.