Oxford
Posted on 2004/08/10 08:52:38 (August 2004).
[Saturday 7th August]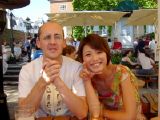 Spent the whole day in Oxford, with Gav, Leon etc. Started off at The Head of the River for lunch and a few drinks, and then in the evening went to a sort of Noodle place for dinner, followed by a trip to the Zodiac, a delightfully filthy indie club. The trip home was less than ideal however, Chie's car suddenly lost power, and we had to pull into a lay-by and phone the RAC. Looks like the head gasket may have blown. Sounds expensive.



Comment 1
I'm goin to Oxford in order to study. I hope that I'll have a good time there.

Posted by Elyor at 2007/01/04 10:11:22.