Glastonbury
Posted on 2004/07/02 08:53:46 (July 2004).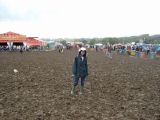 [Thursday 24th - Monday 28th June] After work on Thursday, we put all our stuff in the car and headed of for Glastonbury. We arrived some time after 10, and pretty much just put up our tent, had a drink or two with David, Simon et al, who we were camping with, then went to bed.
Friday was the nicest day weather-wise, it was sunny and the site was mostly dry. We spent quite a lot of the day with Steve and Michelle. Watched a variety of bandswe vaguely knew.
Saturday it rained. Quite a lot. As a result we spent a fair amount of the day sheltering in the tent, but did manage to get out to watch a few bands, including Joss Stone, Jamie Cullum (who was excellent), Basement Jaxx, as well as a bit of Paul McCartney.
Sunday it rained on and off, and was still pretty muddy everywhere. We managed to resist the temptation to go home early this year, and stayed the whole night. Particular highlights bands-wise were the Divine Comedy and Belle and Sebastian.
Monday we packed up and went home. Despite making an early start, it took us ages to get off the site, and then quite a while to drive home... but I guess that's to be expected really.
There are of course plenty of pictures to look at!



Post a comment