Easter in Urbino
Posted on 2011/05/06 17:52:44 (May 2011).
[Sunday 24th April 2011]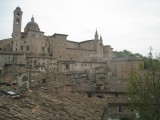 There is a tradition in Italy, basically Christmas is a sort of day that you must spend with the family, but Easter you can choose to do whatever you want.

In order not to upset the God of Italian traditions, this year I set off to Urbino, a very nice and small medieval city, together with Fabiana and Francesca.

Fabiana was with me during the Japanese trip last summer, Francesca is a new addition to my circle of acquaintances, and I have to say a very welcomed one!

We set off pretty early as there are more than 2 hours drive to Urbino and eventually got there in the late morning just in time to go grab some lunch in a restaurant that we picked solely upon a recommendation of an old lady that we stopped… Well the food was nice, but not great, still our spirit did not falter and after the mandatory tour of all the attractions of the city we headed back to Florence late in the night.

It was a really good day, went by real quick, as normally good days go by!

Must do again!



Comment 1
As Elio says:

Christmas with the yours,
Easter what you want!!

:-) :-)

Posted by Federico at 2011/05/06 20:25:47.
Comment 2
..."come diceva mia mammmaaaaaaa" (I couldn't resist)...

Posted by Lox at 2011/05/07 11:59:59.
Comment 3
Hi!
Re-twit you post: to my @saqbiqii twitter

Posted by TheappilaFluh at 2011/11/04 13:07:55.
Comment 4
We are running a Special Promotion On Our Christmas T-Shirts
Buy now and you_ll receive 20% off.!

https://bit.ly/christmastshirtsnew

Thanks!


Posted by Ricardo Gallagher at 2022/11/24 20:28:54.