Caught between swords and thoughts...
Posted on 2010/06/08 22:34:46 (June 2010).
[somewhere in between Sunday 6th and Monday 7th June 2010]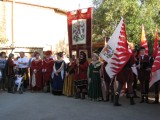 Sunday was quite a decent day, after sleeping a LOT MORE than I usually do had some lunch and planned to go in the afternoon with Simone and Federico to a place called Malmantide where they were going to have a sort of medieval parade/festival in the old city. Here are some pics of the day.

The whole thing went down pretty easily, and in the later afternoon we were joined by some other friends (incidentally the ones that were at the "dinner with murder" event some months before).

We even did some archery, and I am proud to say that I managed to win a prize for having hit a very small target, but I'd say that it was fluke rather than skills.

Had some pizza in the night and then back home.


Home...


I guess I left the most important part for last...

As partly announced in the previous posts, things are indeed changing in Florence for me. I longed for change to happen and as usual, when it takes place, it unbalances everything.

Me and Chiara do not live together anymore.

I won't get into too many details on the hows and whys, is not fair. Suffice to say that neither of us did "anything" wrong to the other, an that we certainly have strong feelings for each other.

I realize that it might not be a final decision, but at the moment it is THE decision.

So where does it all leaves me?

I guess that I am in that phase where too many things are rushing to get sorted and I feel I want to sort none of them!

I need to buy a new car (now I am using my grandmother one), I need to move house (maybe I'll buy one, maybe I'll rent it closer to work?), I need to go back to the company after the business trip and must already organize the new one in July, I need to get my bike back from the mechanic (this one not so hard!), mum is going to have a major surgery soon, I help a friend with a tour of Japan and this thing is becoming more like a secondary job that takes a lot of my free time, I need to come to terms with the fact that Chiara is surely hurting and it is me causing the pain (this really drives me crazy) and last but not least:

I am 35, an history of failed relationships and mistakes at my back and looking at the mirror there isn't exactly a youngster anymore (the prospect of spending my life alone is something terrible to just envisage, makes me want to throw up).

It seems that there is a lot going on and so little time to get things done, and I'd really need a real break.
One of those things where you recharge completely. This summer I am going to work instead of actually having holidays so rest will be postponed...

Surely I am tired after this business trip, surely sleep will sort things out.

Surely tomorrow will be a better day,

It has to...



Comment 1
Not an easy time for sure.

I hope you can work things out soon. Being 35 isn't so bad ( I seem to remember! ;-) ) but the career thing is what gets me most. I realise I've not really decided what I want to do when I grow up!! Well maybe I have but it's not easy to achieve!

Think of the positives if you can, Lox! You've done a lot, travelled a lot and learned a lot. More than most :-))

Posted by Nigel at 2010/06/13 19:16:22.
Comment 2
Nigel: Thanks for the comment, it's not an easy period but I am sure that time will get things sorted a way or another. The career thing is an hard one because 10 years ago, or even 15 when I moved to England what I did was quite rare. It still is in part, but the work environment changed so much that now my line of job is underpaid and quite normal... Travelling for work is not a "status" anymore, it's just normal. Being things like that, how long will I keep doing it in this way? Decisions, decisions....

Posted by Lox at 2010/06/13 21:59:47.
Comment 3
I haven't checked the Maison for a while, so have only just read this post...

I'm really sorry to hear this - I wish I could take you out for a beer so we could talk it over!

Posted by John at 2010/06/13 22:15:23.
Comment 4
John: Ditto... Our usual long discussions over a beer would be nice, I was looking at the pictures I took of Cittie and Mitre last time I was in London with you... Happy memories! :)

Posted by Lox at 2010/06/14 04:06:58.