New Year's Eve 2008
Posted on 2009/01/02 10:15:48 (January 2009).
[Wednesday 31st December 2008]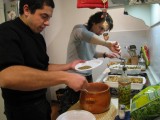 And so it was, the last day of the year arrived at last. Before I indulge in the usual "checkout" for the year that finished shopping at the supermarket of my life, I will enter the hard facts of what happened tonight!

Well, not much. Cooked a lot during the afternoon, our contribution to the dinner were two very English pies, a Shepherd's Pie and a Chicken and Mushroom pie of my invention. It took a lot to cook them but they came out pretty well.

The rest of the evening was spent making jokes and eating as usual, even if we tried to stay low with the quantities this year we managed not to finish quite a lot of things... Oh well...

Then after midnight we stayed in to play games (cards and Risk), I guess noone was in the mood to go out and do something else...

As for the checkout 2008 could have been a better year for me, mostly because I injured my right knee again and I will need surgery to fix it once more. Also from the work point of view the beginning was awful, and things got better only around September. Family is doing fine and love life is "stable" I guess, so all in all it could have been worse but from 2009 I look for some stability at least on the job part (that considering the times that we are facing would be a great achievement). We will see, as usual.

For sure I'd love to have a different New Year Eve next year. I cannot stop thinking that although I love these dinners, it is a setup that I have seen through and through over the last years, and maybe, together with the same people, we could organize something different...

For sure the feasts that we threw when we were younger are gone, with people bringing in kids, virtually no alcohol present at the dinner table, very little craziness joining us for the night. But in another way I guess that this is the way things are, after all we are all growing up...

Ok better keep that thought for 2009 checkouts, the new client has just arrived and needs to be served properly, I do not want the new year to start having a go at me!!



Comment 1
Finally, Dr. Roy, we meet face to face! It was a great gathering, 'always nice to be with felolw-c/Conservatives and not have to overly worry that one's political views might "offend" someone -- although you and I (and my husband) didn't agree on everything , when it came to the Church. That's OK! We agree on more than we disagree on!IMO, Nigel Wright's the right man for the job of the PM's Chief of Staff. He's a man of integrity and gravitas, not to mention highly successful in his field, which he's generously and graciously set aside for the next two years. We need people like him to get involved in government/politics, not just the same-old, same-old party hangers-on and hacks.

Posted by Greg at 2015/11/28 18:17:39.
Post a comment