Prato and Federico's Birthday
Posted on 2006/09/10 15:32:41 (September 2006).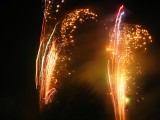 [8th - 9th September 2006]

Jetlagged and tired I dragged myself to Prato on the 8th, right after I stepped out of the plane. There was this sort of historical parade and some fireworks planned in the city.

The parade was crowded like hell, it was good fun though as me, Francesco, Federico, Ivan and Angela kept talking crap and uttering snide comments on all the people that we saw.

The day after me, Ivan and Franz (Francesco) went to buy the present for Federico birthday party which duly happened on that night in a pizzeria of choice.

The evening was rather pleasant and marked the end of a very good day.



Comment 1
Great pictures Lox! And you don't look too jet-lagged either (despite the fact you really were!) :))

Posted by Nigel at 2006/09/10 22:57:27.
Comment 2
Were the parade and fireworks held in honour of your return?

Posted by John at 2006/09/11 01:07:50.
Comment 3
Nigel: Believe me I am jetlagged (I am writing this at 6:49 AM).. .:(

John: Technically they wanted to ask me to rent a house there to increase the average goodness in the population as I am from Florence, but in reality it was all disguised as a Christian party that had to do something with some relic that they supposedly have in the cathedral.

Posted by Lox at 2006/09/11 06:30:32.