Last Night in Hiroshima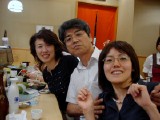 Monday 12th September 2005
Dinner at Sushi Tei, followed by a spot of karaoke to mark my last night in Hiroshima.
> Maison de Stuff
> John
> John's Pictures
> Japanese
> Japan 2005 Part I
> Japan 2005 Part II

19:08:29 Chie with her parents in Sushi Tei.

19:09:08 A picture looking the other way, taken by Chie's Mum.

19:13:10 Some grated wasabi.

19:13:33 Our chef, hard at work!

20:24:08 Later on, a spot of karaoke!

20:31:53 I think this was the first time to go for karaoke with both of Chie's parents.

20:34:29 Chie and her Mum, possibly singing Abba...?!

20:47:25 Me and Chie's Dad, maybe also doing a duet...?

20:47:52 Look, a tambourine.

21:15:32 More of the same sorts of pictures really.