Out by Myself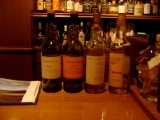 Wednesday 31st August 2005
I rather randomly went out by myself this evening... Took my camera with me, but only started taking pictures once I was quite drunk - and then (perhaps as a result) they were generally too bad and random to have been worth taking! Still, I feel I have a commitment to recording my life digitally now, so have uploaded them regardless.
> Maison de Stuff
> John
> John's Pictures
> Japanese
> Japan 2005 Part I
> Japan 2005 Part II

22:19:25 A nice line up of bottles in Bar Fukuzawa.

22:19:45 The barman (owner?) at Bar Fukuzawa busily preparing cocktails.

23:52:04 My next venue - Alcoholiday. The entrance was via a rather uninspiring corridor.

00:03:53 I was sitting here in Alcoholiday, half in a drunken stupour, somewhat baffled by the presence of Bob the Builder toys. In Japan.

00:20:43 A random self porttrait on the way out of Alcoholiday.