Ako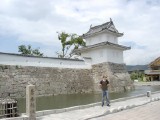 Saturday 20th August 2005
A brief stop off in Ako, to look at a castle, on the final leg of our journey back to Hiroshima.
> Maison de Stuff
> John
> John's Pictures
> Japanese
> Japan 2005 Part I
> Japan 2005 Part II

12:19:32 Here's a gatehouse or something - note how we were lugging our bags around with us.

12:23:56 I always like these Japanese banner things.

12:24:44 You can't go wrong with one of these Japanese gate things.

12:28:53 Me and a tower on the corner of the castle wall.

12:29:00 Same again in portrait.