Walnut Tree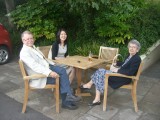 Saturday 8th August 2009

Dinner at the Walnut Tree, a long standing famous restaurant near Abergavenny which I'd been wanting to go to for years.

Vera's 90th Birthday Weekend
18:18:43 The Walnut Tree, a famous restaurant near Abergavenny.
18:18:57 Drinks out on the terrace before our meal,
18:28:15 Chie and Robin.

18:28:29 Me and Vera.
18:29:14 Chie, me and Vera.
19:13:09 Unfortunately I left the flash on here. Otherwise this might have been a nice picture of my starter - deep fried courgette flowers with a tomato and basil sauce.

20:15:11 I neglected to take a picture of my main course (a globe artichoke) but here's my dessert - a hazelnut meringue with summer fruits.
20:54:38 Enjoying the view from the Walnut Tree's second little terrace by the side after dinner.