Last Day in Abergavenny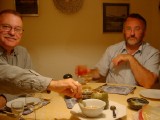 Wednesday 5th October 2005
The last day of my stay in Abergavenny. Dad came for dinner, and after that we headed off up North.
12:57:48 On the way to Waitrose, walking across the meadows, a very misty hill in the distance.

13:04:37 The bridge on the way to Waitrose.

13:05:07 Vera going over the bridge.

19:26:09 Robin and Dad with my artichoke and vinaigrette starter.

19:43:41 For the main course I made a roasted vegetable lasagne.

19:43:49 Dad tucks in.

20:35:23 Dad, Vera and Robin in the door way, before Dad and I embarked on the four hour drive up to North Wales.