SeattleMexican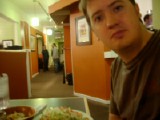 Sunday 13th November 2005
A couple of random pictures from when I went out to dinner one evening by myself whilst staying in America.
> Maison de Stuff
> John
> John's Pictures
> Seattle Autumn 2005

Sunday 13 November
18:38 Me in El Toreador in Redmond. The burrito here is very good!

Sunday 13 November
19:02 A totally random picture of some signs - I think I just liked the slogan "GOT CONVECTION - LETS TALK TURKEY". It has a certain ring to it.